4. Oktober 2022 - Ingo Vetter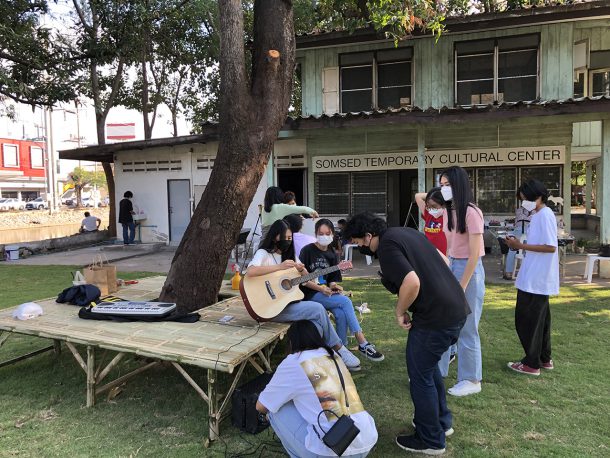 Lecture and workshop with Giacomo Zaganelli, invited by class Ingo Vetter
The artist for the collectivity
A research focused on the social role of the artist in XXI Century
Why are collaborations with territories, businesses, schools and institutions, today more than ever, fundamental to define new paradigms of exchange and sharing, between art, society and active citizenship?Can a social role be defined for the artist and analyzed his/her ability to generate added value and, at the same time, to catalyze resources and interests from subjects outside the sector, thus helping to help the community work towards a common interest?
Giacomo Zaganelli is an artist, curator and activator of projects aimed at the community, conviviality and sharing. Through his practice he investigates the social and public dimension of the concept of space, understood as the result of territory, environment and landscape. In the last fifteen years he has promoted and created numerous projects and activities in Italy, Europe and Asia.
Lecture on Wednesday, October 19, 2022 at 6 pm in the Auditorium, Speicher XI
Workshop within the course "Reallabor Kunst am Bau" on Friday, October 21, 2022 from 10 am until 3 pm. We meet at the "Stufenhügel" at Ludwigshafener Straße in Tenever. Tram Linie 1 until stop "Tenever-Zentrum". Here a Google point for orientation: https://goo.gl/maps/Uyc8qXTJqjUVTyTt7.
Giacomo Zaganelli's research "L'artista per la collettività" is a project supported by the Italian Council (10th edition, 2021), program to promote Italian contemporary art in the world by the Directorate-General for Contemporary Creativity of the Italian Ministry of Culture.
Here are some photos from our workshop / field trip to Tenever and Blockdiek on Friday, October 21, 2022: