3. Mai 2020 - Ingo Vetter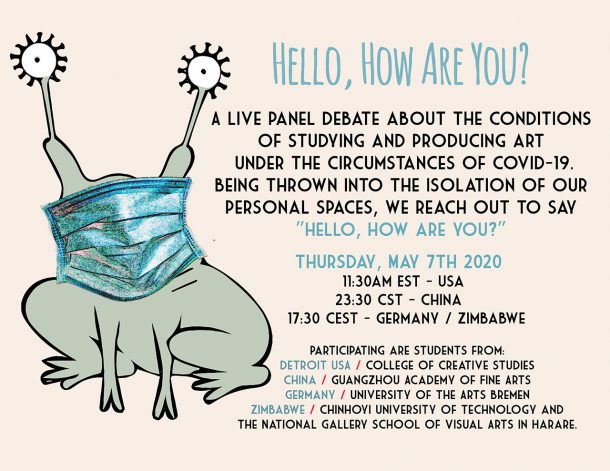 A live panel debate about the conditions of studying and producing art under the circumstances of Covid 19. Being thrown into the isolation of our personal spaces, we reach out to our colleagues at art schools in the world and ask for their experiences.
The online panel debate takes place on Thursday, May 7, 2020 at 11:30 EST (Detroit time), 17:30 CEST (Bremen and Harare time) and 23.30 CST (Guangzhou time). To join in, follow the Zoom link: https://bit.ly/hello-how-are-you 
The debate will be hosted by our colleagues in Detroit and runs on ZOOM. HfK does not recommend the download and use of the ZOOM App. For participation open this link only in your browser in a private window and use it if possible with an Adblocker. You will get a ZOOM event link and follow the instructions. Please do not register anywhere.